The program for the Wörtherseetreffen 2020 is being prepared.
Below you can see what was going on in 2019
The program for this year's 38th Wörtherseetreffen is being prepared  – the latest news: what is new:
our new LIVE ACTS:
King & Potter – 01.06 ==> 14.00
Luke Andrews – 31.05 ==> 14.00
Ballroom Rockers – 30.05 ==> 14.00
🖤 ​​Our first program 2019 🖤

☀️CHILL OUT AREA directly in the beach
This year we lock up for the first time the beach in Reifnitz for the event, there it will be very comfortable, because we create a nice "CHILL OUT" area with cool DJ! CHRIS GOMEZ 

 Bildrechte: Chris Gomez
🚗WALK OF CARS
Our Wörthersee south shore road, the most important road through Reifnitz belongs EXCLUSIVE to our real stars, the vehicles! We create space, ensure a consistent appearance and offer great, prominent parking spaces directly along the street! So arrive early, it's worth it.
🚨LASERHOW
Fireworks were yesterday, laser show is announced TODAY. There will be a cool laser show every day at 10pm on Wednesday, Thursday and Friday in the event week!
🔥 ROAD to REIFNITZ
Every day (Wednesday, Thursday, Friday) from 20 o'clock with your entrances and exits to Reifnitz flames provide for really hot Wörtherseetreffen Feeling.
🍽STREET FOOD MARKET at the lake
For the first time, 10 international Food Street partners present themselves in a prominent location directly in Reifnitz. To create this great selection of food, we created centrally a cozy "dining room", where you will feel really comfortable. Our local catering establishments also provide the best care!
❤️FAMILY WORLD
Robert Steiner is not only known for his performances in the children's program of the ORF, he not only goes on tour with his Nivea family festivals, he also offers me his family entertainment company creative solutions for very special events! It's crazy for families!
In April we present you the VW Area, the new "American Bar", the Partyarea with Rubber Square and Stage!
And the motto for this year we present this week ❤️❤️❤️!
We look forward to seeing you! Lg the crew!
P.S From 01.03 you can order your day tickets via www.oeticket.com & www.eventtim.de for the first time 😉👍!
Dear Autocorso participant,
finally the time has come … in the supplement the long awaited route or description to the autocorso 2019
This will take place on Wednesday, May 29, 2019 from 8.30 – TREFFPUNKT Pyramidenkogel.
There you can visit this excursion destination for free (up to 2 people per car – each additional at a special price of 7 euros)
and experience the Wörthersee and the Keutschacher Seental from above!
At 9.00 o'clock we start to a brilliant action … all participants collect and their cars to the common photo from the VOGELPERSPEKTIVE, which you get printed later in Maria Wörth – at the finish.
Then it's "chillig" from Pyramidenkogel to Reifnitz, where you can present your vehicles in two rounds through the place Reifnitz, before you reach the destination Maria Wörth – Tourist Information – Parking.
PS .: Prerequisite for the participation in the Autocorso was the timely REGISTRATION and a valid participant ticket for 4 days or a Tageseinfahrtsticket!
IMPORTANT: for entry to the Pyramidenkogel, you will receive a voucher per registered person! (free: max 2 per vehicle – each additional person 7, – Euro)
IMPORTANT: for all those who arrive before 29.5.2019 – please in the tourist information Maria Wörth, Seepromenade 5, 9082 Maria Wörth pick up the start numbers and vouchers – for all others, the 29.5. arrive, the start number / voucher is deposited at Pyramidenkogel. Changes reserved!
Have fun with this year's autocorso –
Good drive and entertainment
The mayor
Markus Perdacher eh.
GTI 2019 I AutoCorso_Programm (3)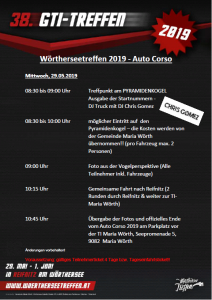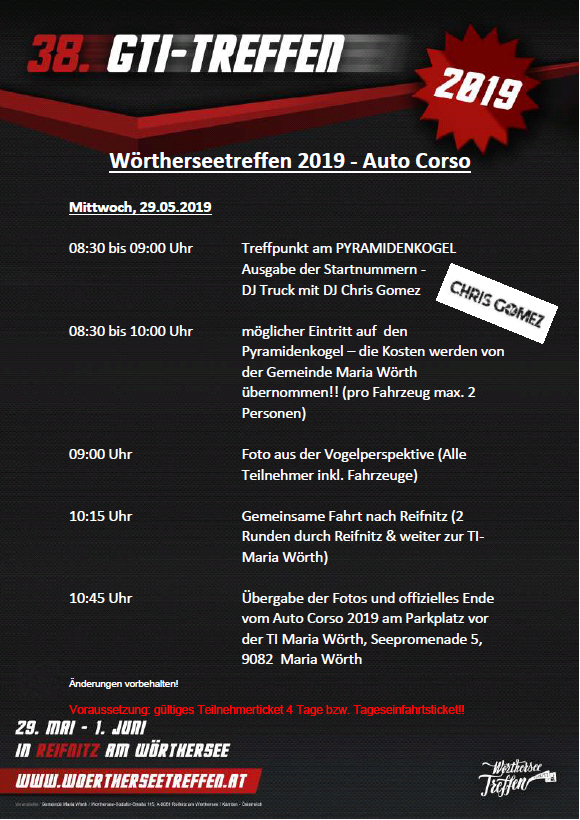 The program for the Meeting 2019 is currently in planning. Together with VW, various GTI clubs, municipality employees and other fans and participants we are once again working to create a very special event for you – with lots of highlights.
Car Parade – it is fully booked! no registration possible !!
you can already register for that HERE!
In 2019, we will once again be driving with all Golf I and II models on the 3rd event day  along the picturesque country roads and to idyllic valleys, past lakes and mountains, to a nostalgic place to end the rally. The number of participants is strictly limited, participation itself is free of charge. A snack and a drink are also included for 2 people per car. You only need to have a Golf I or II model and an entry ticket to Reifnitz. Visitors to the Meeting who have already taken part for over 35 years may also participate with a different Golf GTI model.
---
Ladies' Breakfast – you can already register for that HERE!
Mayor Markus Perdacher once again invites all female car fans who come to the Meeting with their own GTI (Golf or Polo, as long as it is GTI) to an exclusive breakfast. Enjoy chilled prosecco and tasty delicacies directly on the shores of Lake Wörthersee, with views of romantic Reifnitz Castle. Participation is free of charge. The number of participants is limited. You need to have an entry ticket to Reifnitz.
---
Club Challenge – you can already register for that HERE!
In 2018, once again, the Friday is club day, with a big Club Challenge. Take the challenge with some fun challenges and win cool prizes such as top quality shopping vouchers or a variety of entry tickets to tourist attractions. You need 8 club members to register.